Andorra - Principat d'Andorra
Andorra: Andorra is located right on the border between Spain and France. Andorra is Andorra is easily reached from Barcelona.
---
---
Andorra
Andorra Travel and Tours
Andorra is located right on the border between Spain and France and is in many ways a paradise. Andorra is one of the oldest states in Europe and a tax haven as well as the paradise for all kinds of winter sports, a shoppers dream, the nature lovers perfect holiday destination and very much more.
The Principality of Andorrais the smallest state in Europe in the heart of the Pyrenees:Andorra is small country, (468 km2) barely has 70 000 inhabitants but receives close to eight million tourists every year.
Andorra does not require visas of any nationality. But to visit Andorra, it is necessary to go either through Spain or through France, all the nationalities who do not belong to the Schengen area must find out whether they need a visa to enter or to leave the countries that form part of the Schengen agreement. The type of Visa will depend on the country of origin of each visitor, although the most common is double or multiple entry visas.
Learn more about holidays to zanzibar zanzibar at www.zanzibar.co.uk
---
Weather in Andorra: Weather forecast and temperatures in Andorra today: Click HERE >>
Free Golf Guide Andorra - Golf Courses in Andorra: Click HERE >>
Rent a Car - Car Hire Andorra: Click HERE >>
---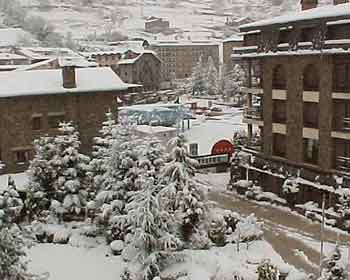 Winter sport is the big attraction in Andorra but health and SPA tourism is growing rapidly, and the beautiful mountain peaks and valleys offers a unique nature in summer and autumn when mountain hiking, trekking and horse riding are the main activities.

The low taxes in Andorra makes a shopping paradise of the capital: Andorra la Vella. The selection of products is enormous. Tobacco, spirits, electronics and branded products of all kinds are found in the many shops which are open seven days a week. Andorra has no own currency and the euro is used in all establishments.

The languages spoken in Andorra are mainly Catalan, Spanish and French but you can manage well in English during your vacations.

There is no airport in Andorra and the most common way to travel there is by bus or car from Barcelona.

The public transport in Andorra is excellent and it is easy to reach all the different ski stations even if you decide not to rent a car.

Andorra's official website is: www.andorra.ad and up to date information regarding the snow and weather conditions at all the ski stations during the winter season is found at: www.ski.andorra.com.
---
Skiing in Andorra: Vallnord

Vallnord: Arnisal, Pal and Ordino Alcalis
Vallnord is the new name for Arnisal Pal and Ordino Alcalis together, a real dream for those who love trendy skiing, long-distance rides and new adventures. Slopes of Pas de la Casa and Grau Roig is part of the major project Vallnord.

In addition to nearly 90 Kilometers of downhill skiing, you can have lots of fun here with helicopter flights, "Mushing", "bumps", snowboard, barbecues and chill out with all the latest music and fashion.

The area is surrounded by beautiful pine forest and several of the slopes are child friendly.

A day pass costs 30 Euros in high season and 25 in low season. Five-day cards are sold from 98 Euros. The web page is: www.vallnord.com



Andorra: GrandValira
Grandvalira is one of the best all-in-one ski resorts in Europe: 190 kilometers of skiing in the heart of Europe together with many activities such as helicopter flights, long-distance skiing, snowboarding and night lighting.
Ski passes in Grandvalira cost 35 euro per day and five-day card from 136 euro.

More information is available at: www.grandvalira.com

Other useful links to Grandvalira can be found at the following websites :



www.andorraweb.com



www.andorraonline.ad



www.hola-andorra.com
---